Finding beauty products on a student budget is hard. Magazines telling you to spend over £20 for a moisturiser can make you quiver, whilst staring at the one you've had for over five years. Look no further, as here is a run down on some of the best high street beauty products that will leave you smelling, feeling and looking good.
Product Of The Month

The Sweet Goodness
A lush fan? Then you will understand how Christmas at Lush is the best time of the year, especially with the return of Snow Fairy, which is limited edition. Snow Fairy is a girls best friend as it's pink, it has shimmer to it and most of all it smells like candy floss and lingers all day long! What more could you want? It also has added carageenan gel. In simpler terms; it softens your skin even more, which is something that normal shower gels do not do.
You can get best results if you pair it with other Snow Fairy products such as the Snow Fairy Sparkle. I've also been talking to the people at Lush today and they use this to wash their hair and to wash their clothes with; an all rounder for the student savvy person out there. The people at Lush never cease to amaze me…
Lush is incredible as their products are handmade, recycled and fight against animal testing. So if you want to do something for the world whilst smelling good then this is the ultimate combo. At £7.95 for a 250g bottle it is quite pricey. So not your usual £1 shower gel from Tescos. For something that's handmade, makes you smell like sweet goodness and protects the environment, it's worth it! If candy floss isn't your thing then Lush have a variety of products to look at, and you can also bag some free testers if you're lucky! Winner.
The changes in the seasons, especially Winter, plays havoc on your skin. Importantly, on your bank balance too. Don't get me wrong, I love the cozyness and cliché Winter films but Winter hates me. The dry skin combined with the redness stands out like a sore thumb and makes you look like a walking snotty mess that has just stepped off the plane from Alaska. Here are a few beauty survival products to bust the Winter blues.
Hands

Soap and Glory Hand Food
The Soap and Glory's Hand Food is used religiously on my hands and
is an ultimate must to replenish your dry skin in the Winter. It's just
pure heaven on your hands with a floral essence, blended with the
smells of luscious mandarin and strawberry. It leaves your hands ultra
soft and doesn't leave them greasy like most other hand creams.
At just £5.50 it goes a long way and keeps them moisturised all day.
Lips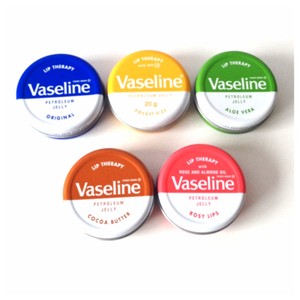 Vaseline
Next up Vaseline; everyone's trusty friend over the Winter period. However, very underrated compared to the more high end lip balms. This is an all rounder, whether that's rubbing it around your stuffy nose or your sore chapped lips, it's multi purpose and great for locking in natural moisture. Vaseline comes in a variety of flavours and is pocket sized at only £1.99. Perfect!
Body

Palmers Firming Butter
Palmers have created a fabulous firming body butter, that works!
Yes guys, it actually does what it says on the bottle. With
shea-butter, collagen and Vitamin E it tightens your skin, making it
feel smooth, hydrated and most importantly, lump free! Which is
perfect for over those Christmas months when your body starts to
go a bit pear shaped. The price of £4.19 is decent as it comes in a
300 ml bottle.
Hair

OGX Coconut Water
Finally, OGX hair care range. It's constantly on offer wherever you go, ranging up to £4.50, which stays within your budget. The one I particularly like is the hydrating coconut water shampoo and conditioner. It leaves hair feeling weightless and silky, and you don't need to break the bank, to care for your lifeless and dull hair that Winter leaves. Just leave in for 2-3 minutes and your hair will feel rejuvenated and refreshed. OGX have a massive range, so you can find one that suits your hair perfectly.
So that's it. A quick round up of the best products to buy for the Winter months, without breaking the student bank. It's really difficult to try to avoid getting drawn into the high end products, especially when you are surrounded by new people using new products. Advice? Stick to your budget because there's some great products out there that are cheap as chips.